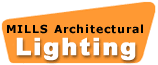 Energy Efficient Options :
Mills Architectural Lighting is dedicated to energy conservation with lighting and control devices to help cut energy consumption levels, which reduce operating costs. Mills' full-size lanterns can be equipped with Compact Fluorescent energy saving bulbs in the upper portion of the lantern. Fixtures can be wired for high output compact fluorescent downlight and body lights. With emphasis on energy efficient light sources, our lanterns can be wired for Halogen or Metal Halide bulbs at your request. Please inquire for pricing.
Prismatic Refractors and Non-Prismatic Refractors are two lighting options available with all of Mills' lanterns.
Prismatic Refractors:
Provide excellent light distribution at the seating level by directing 80% of the light downward over the seating area in a 45 degree pattern (see Distribution Curve). These lanterns utilize low price standard lamps to ensure savings in replacement costs over the years. ("P" in catalogue)
Non-Prismatic Refractors:
Lanterns that use reflector bulbs are less costly to produce. However, light distribution is not as efficient and on-going replacement cost is considerably more.("R" in catalogue)