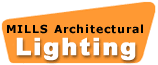 News

LED's, Energy Efficiency and Regulations – News
Incandescent Lamp Regulations: Governments around the world have passed measures to phase out incandescent lamps for general lighting in favor of more energy efficient alternatives. As of January 1, 2014, phase-out regulations effectively ban the manufacture and importation of the common 100, 75, 60 and 40 watt incandescent bulbs. You will notice many of our Mills Architectural Lighting fixtures specify these now banned lamps. This is not all bad news as major lamp manufacturers have developed exceptional alternatives in light emitting diode (LED) medium base direct replacement lamps. A 60 watt incandescent body lamp (considered a long life bulb with a 2000 hour rating) can now be replaced with a 9.5 watt dimmable medium based LED bulb rated at 25,000 hour life while emitting an equal amount of light. Technology is rapidly improving the quality, output of light, and dimming capabilities while prices for these lamps are steadily dropping. Please feel free to call us to discuss the latest energy efficient lamps.
New Hi Performance LED Alternative: Traditionally Church Lanterns utilized a 500 watt down light and up to six 100 watt body lamps (1100 watts of incandescent light) to achieve acceptable lighting levels. We are pleased to announce our new high performance LED engine to achieve similar lighting levels, yet consuming only 135 watts of power.
With electricity prices at an all time high, saving over 80% of your energy cost and reducing maintenance cost by increasing the life expectancy to approximately 50,000 hours (50 times longer) is simply good stewardship.