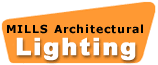 Shaker / 3000
Our Shaker 3000 series lanterns feature beautiful textured white and Amber Glass panels. The all metal frame is available in a selection of finishes noted below. An available option is Mills Architectural Lighting's exclusive built in prismatic refractor allowing for the use of several different down light sources including Incandescent, Metal Halide or Compact Fluorescent (CFL). A 120 watt CFL , downlight with a lamp life of 20,000 hours and light output equal to a 500 watt incandescent has become a popular option for energy and maintenance savings.
Description:
Lanterns are welded and fabricated from rust resistant steel. Panels are textured White & Amber glass. Lanterns come complete with ceiling canopy and chain. Stem mount can be specified. Each lantern is equipped at the bottom with a removable concentric louver which provides excellent spread and adequate shielding from the lamps and does not collect particles. A closed glass bottom can be specified.
Outlet Box Mounting:
Suitable for surface or recessed outlet boxes complete with heavy gauge mounting bar. Canopy attachment equipped for flat or angled ceilings.
Mounting:
For surface, recessed, false or vaulted. Please see specification page.
Overall Length:
As indicated on "Detailed Specifications & Product Sizes", you will find the chain length included for an overall length from the ceiling to the bottom of the lantern. Additional chain lengths can be specified. Stem mounting is also available.
Finish:
Frame, metallic bronze paint. Other finishes available upon request.
Wiring:
Lanterns are approved to National Electrical Code Standards. Two circuit lanterns are wired common neutral plus ground wire.